18 de February del 2019
Garden Project
A Garden Project establishes in children a love for learning and prepares them to see the world with eyes of wonder. Working with a garden-based education there are no gardening mistakes, only experiments, and helps children discover and cultivate their understanding and ability to think and enjoy. In a green school environment, children learn first-hand in a natural context how fruits and vegetables grow, in a world where they get a chance to create a personal relationship with plants, animals and nature.
Above all, children participate actively, creating habits of patience and perseverance, following the rhythms of nature, observing and learning not to harm plants. They also gain responsibility taking care of the area and watering the seeds when needed as it will grow into a plant that can provide them food. In addition, a garden project gives children a sense of ownership and competence and measurable life skills of independence and sustainability while encouraging them to eat more vegetables and fruits as well, for a healthy diet.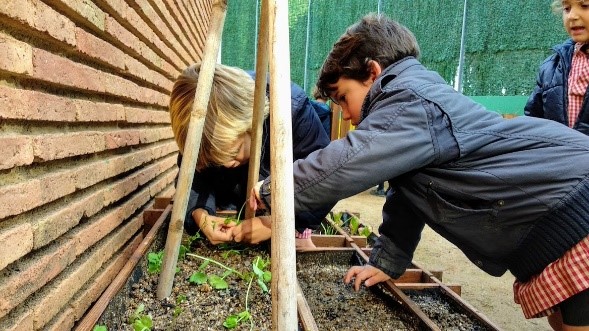 For many of our students, the gardens may be their first focused and immersed encounter with the natural world, so it is a great opportunity to enjoy the richness of growing plants.
Gardening has been proven to reduce stress, anger, depression and pain levels and enhance productivity and problem-solving skills as gardens are soothing and appealing.
While teaching to the little ones, it gives educators strategies to expand vocabulary and introduce English as a foreign language in a natural context: working through the different seasons, a big variety and types of plants, the tools used and the way they grow under or above soil…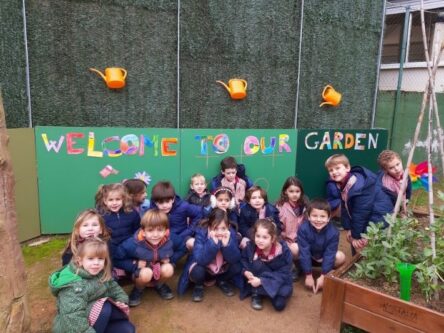 To summarise, children have lots of fun and gain special benefits. Gardening is educational and develops skills such as reasoning, understanding, love of nature, discovering and responsibility in taking care of the earth because as Pope Francis said, "The earth is our environment to protect and the garden to tent to".