8 de February del 2021
Family engagement
One of the most important assets of Viaró Global School is family engagement.
Viaró Data Research has found that during the academic year 2018-2019, 95% of parents attended meetings during the school year. This is a great achievement that we must maintain, even in the current, rather extraordinary circumstances. Several studies have shown that family engagement has a direct effect on students' outcomes.
Last year, I was studying the American perspective on this important issue at Harvard X. In the States, teachers are trying to create partnerships with parents through visits at home, interviews with parents, and even by contacting community leaders. Drawing from these experiences, they arrive at an informed assessment of the school's problems and bring this assessment directly to policy makers. In my opinion, that is the best way to change education: starting always from the root.
During the 60's, many American professors were arguing about what was the most important factor in children's success: the school or the home environment. After years, they have found the answer that incredibly and sadly not everyone knows: both are very important. There is no good path to a successful education for our children that does not involve coordination across these two spheres. Many studies have documented just how indispensable family engagement is to the attainment of positive behavioral and academic outcomes for our children.
I am positively surprised by Viaró Global School, because 57 years ago promoters laid the first brick in a deserted area of Sant Cugat, following Saint Josemaría's words: "Parents before teachers, teachers before students". This sentence seems like it was written today.  It captures the latest findings about what makes for a successful education, and it is a "must follow" sentence for the World Educational System.
Did you know that Spain ranks first in the EU for its early drop-out rates? This is a hard reality for teachers in this country. How can we fix it? If we really want to educate with equity and justice for everybody, we must apply Saint Josemaría's words throughout the country, giving special support to the most disadvantaged areas.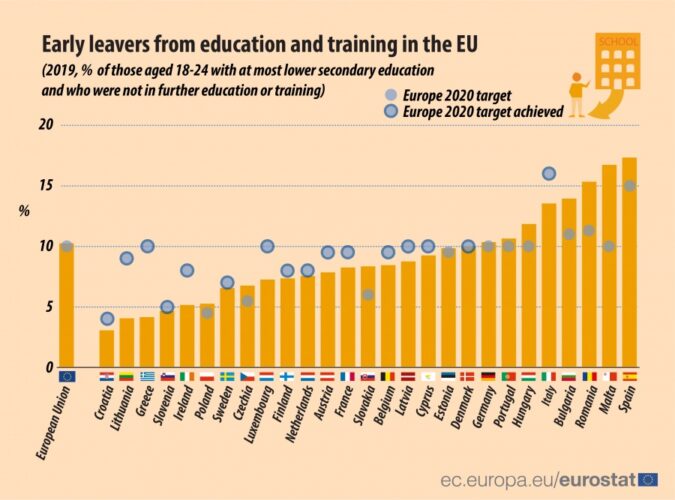 It is paradoxical that an institution like the Church, with ample experience in the kind of collaborative, family-centric education that we now know to be crucial to success, is being progressively relegated to private education in Spain, and that the single-sex education model is almost unknown in Spain, while in other countries it is increasingly being put to use to precisely solve the problems we now face.
With respect to the first of these missteps, it has been amply demonstrated that schools with close ties to church communities have better results in family engagement, and that their students accomplish their goals better than students in other settings. With respect to the second, it is well known that single-sex education has grown from 4 to almost 400 schools during the last twenty years only in the USA, and that this has helped to improve education especially in those districts where racial stereotypes had previously impeded progress. In other countries, like Korea, single-gender education is amply recognized as a good model that nicely complements other approaches. In Spain, we are driving in the opposite direction. We are, in effect, busily undermining the roots of a sound education, and this is bound to have a deleterious effect on the crown of the tree. The data speaks for themselves. For example, the U.S. Dept. of Education revealed data confirming that the average 11th grade American boy now writes at the same level as the average 8th grade girl (Sax 2005). This strongly suggests that prevailing educational models are connecting with the interests of girls more successfully than with boys, and it has led to a plethora of experiments with single-sex models that can be tailored to the interests of each gender, so as to give each child the best possible start in life.
What, then, are parents' and teachers' responsibilities for family engagement? It is very easy and hard at the same time. I am not going to reveal anything new and surprising here. I can only repeat what your tutor has probably already told you several times. It is about helping your child with his homework and his tests, coming to parents' meetings, contacting the school whenever problems arise, sharing ideas and suggestions with the school, coming to speak to your child's class, etc. But the foundational element of teacher-parent collaboration is trust. (Steven B. Sheldon & Sol Bee Jung, John Hopkins University).
How can we build it? Parents must know that in-service education for teachers at Viaró is mandatory. For example, two years ago, as part of our continuing education, we held conferences about the importance of parents meeting with their respective tutors. Our Sub-directors, including Luis Bordonaba and Pere López, in conjunction with experienced teachers, such as Quim Feliu or Quim Carreras, were talking seriously about the importance of the family and teacher's engagement that we are inheriting.
Alfonso Aguiló reminded us of the importance of cultivating what these days is called "emotional intelligence" in the school. It is well-documented that not only boys, but girls as well find it much easier to speak about their feelings when they are in a single-gender class.
After writing this, I have been pondering just how hard it must have been for schools such as Camino Nuevo, in the USA, where poor families with disadvantaged parents were trying to do their best for their children. Those parents, instead of speaking directly with teachers, preferred to speak with parents with the same socioeconomic status. This is one reason that teachers in the USA are looking for parents' leaders, so they can connect with other families with similar backgrounds and form bridges between schools and families.
In conclusion, let me circle back to family engagement in our school. We already know that our teachers' monthly tutorials with each student, together with interviews with each family every trimester, give teachers and parents the opportunity to help our children in profoundly important ways, and to collaborate in pursuit of the same goals. It is scientifically proven that children who feel understood and supported both in school and at home will steadily improve in their academic performance, and this is just what we are seeing in the remarkable progress of our children.
Parents used to think that when their children begin studying at ESO and BACH, they no longer need the help of their parents. This is a common mistake, both here and in the USA as well. Research on children between the ages of 12 and 17 has shown conclusively that parental involvement grows even more important during this period. For example, in Chicago, those students whose families attended meetings and were in contact with the school staff improved their marks at language and math.
According to the book "Beyond the Bake" of Karen L. Mapp and  Ann Henderson, there are four core beliefs necessary to cultivate successful school-family partnerships.
All families have dreams for their children and want the best for them.
All families have the capacity to support their children's learning.
Parents and school staff should be equal partners in the education of children.
The responsibility for building and sustaining partnerships between school, home, and the community rests primarily with school staff, especially school leaders.
Given these considerations, we need to step back and reconsider different models if we really want diversity and if we really want to break down stereotypes. I know that all of us want equality, so it is very important to find different ways to support the next generations of students, remembering always that trust is the base. As well, we must keep doing an effort supporting our children education each day, giving encouragement to teachers to improve the process of learning, and speaking with so-called MEC (married couples dedicated to each class) about the different ways we can follow to build class, cohort and school community.