In Viaró, the PRE-SCHOOL Education stage welcomes boys and girls from P0 to P5. The first three courses, P0, P1 and P2, are equivalent to the Nursery stage, where the youngest children adapt to the school environment through sensory stimulation and the discovery of workspaces. In this way, continuity is favored during the Second Cycle of Early Childhood Education, which includes the P3, P4 and P5 courses, all of them economically supported by the Department of Education.
Aware that the family is the backbone of children's education, we support this initial educational period by offering training courses, participation in school life and ensuring that development and learning studies are personalized as much as possible.
During this first stage, we accompany the education of boys and girls with personalized attention; developing all their potential and promoting the autonomy and self-esteem necessary for their optimal development.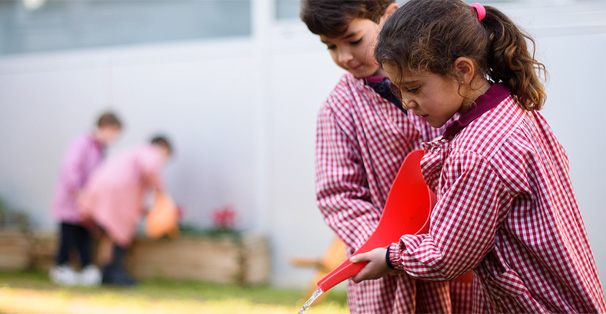 We offer an environment surrounded by nature as well as equipment specially adapted to the individual needs of each child: functional classrooms according to age, patios that favor psychomotor development, classrooms equipped with technology and significant learning spaces and projects. All this piloted by a qualified, expert and constantly training teachers.
Daily contact with parents favors a fluid communication between the family and the school that allows us to promote the best in each student.
The flexible hours in the reception and departure periods during school hours are designed so that families can reconcile work and family life. You can also make use of the Nursery Ticket.
The educational challenges we propose ourselves
Happy children in a better world
We accompany students and their families on their path of growth so that they acquire full autonomy, teaching them to live with everyone in a diverse world.
Brave children in a changing world
Along with basic literacy and math skills, we strive for them to develop creative thinking and emotional skills that enable them to successfully adapt to the challenges of the future.
Open children in a global world
Technological knowledge, critical thinking and mastery of languages ​​- especially English – are essential to interact in a global world. These transversal axes are present in all the activities that we propose.
Responsible children in a sustainable world
Our proposal, based on cooperative work strategies and by projects, seeks to promote leadership through service, in a natural environment that promotes care for the environment.
Would you like to know Viaró Infantil?
Request an interview by filling out this form: